John Deere Golf launches new triplex mower with open platform design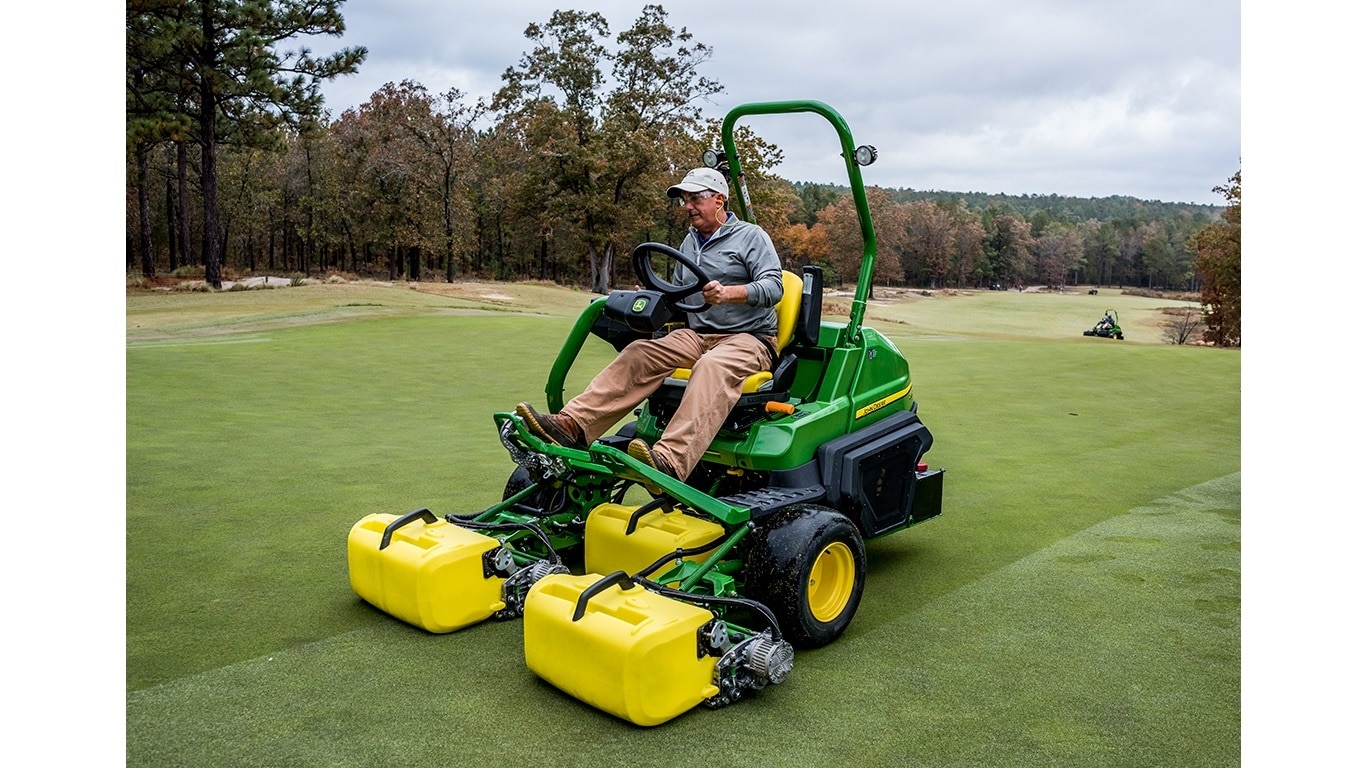 The 2700 and 2750 Triplex Mowers were designed to take the stress out of mowing.
CARY, N.C. (Jan. 22, 2019) – Quality labor availability and tightening operating budgets continue to be challenges, and understanding these customer needs was a key driver behind the development of four new reel mowers from John Deere – the 2700 and 2750 PrecisionCut™ Triplex Mowers, and the 2700 and 2750 E-Cut™ Hybrid Triplex Mowers. Designed to provide premium cut quality regardless of operator, improved grass catcher accessibility, and reduced operating costs, the new mowers provide a lightweight, open platform machine that's further enhanced by the proven TechControl™ system.
"Consistent cut quality across all operators, contour following, and grass catcher accessibility are critical needs for our customers," said Brad Aldridge, product manager, John Deere Golf. "The 2700 and 2750 Triplex Mowers were designed to tackle these challenges and take the stress out of mowing, with an enhanced TechControl system that allows for more precise control than ever before."
Using the passcode protected TechControl system, managers and technicians can input commands, controlling nearly everything regarding the operator's performance, including frequency of clip, turn speed, clean up pass speed, and how fast the cutting units raise and lower. The TechControl system ensures that regardless of the operator, the end results are the same, providing consistent cut quality on the course.
An industry exclusive on the hydraulic models, and available on the hybrid units, the frequency of clip can be programmed by altering parameters on mowing speed, reel speed and number of blades on the reel. Once programmed, the settings cannot be changed by the operator and automatically adjusts with ground speed, ensuring uniformity from machine to machine.
Clean Up Pass Mode, a John Deere exclusive, is a preset operating mode that the operator can engage to automatically reduce mowing speed on perimeter passes to increase accuracy for less scalping or missed grass. This setting allows the operator to focus on the task, rather than feathering the speed.
Adjustable turn speed allows the superintendent to control how fast the operator is able to turn, minimizing chances of turf damage. Additionally, the superintendent or technician can select Eco Mode, which electronically controls the engine speed to conserve fuel. With Eco Mode, the engine RPM automatically adjusts based on the load, saving up to 30 percent on fuel and reducing operating sound levels.
The 2700 and 2750 Triplex Mowers feature a lightweight, open platform frame design with a low center of gravity for excellent stability and traction performance. The decreased weight reduces tire tracking and compaction, and the open platform design makes it easier to access the center grass catcher. The grass catchers can be easily removed and installed with one hand, and have a translucent yellow option for better visibility of clippings levels.
Another notable change on the 2700 and 2750 models are improvement to the steering column, which features two points of adjustment – the column and steering wheel – and requires no tools, maximizing operator comfort.
The 2700 and 2750 Triplex Mowers offer a 62-inch (157.5-centimeter) mowing width and mow speeds of up to six mph (9.7 kph). The three-axis lift system provides up to 18 degrees of steering and 42 degrees of contour following for an even cut, especially in cleanups and undulating terrain.
The new Triplex Mowers will be available for purchase in 2020. Those attending the 2019 Golf Industry Show in San Diego, Calif., Feb. 6-7, can get an early preview by visiting the John Deere booth (#3037). For more information about the John Deere line of golf equipment, contact your local John Deere Golf distributor or visit www.JohnDeere.com/Golf for the latest news and product information.
Deere & Company (NYSE: DE) is a world leader in providing advanced products and services and is committed to the success of customers whose work is linked to the land – those who cultivate, harvest, transform, enrich and build upon the land to meet the world's dramatically increasing need for food, fuel, shelter and infrastructure. Since 1837, John Deere has delivered innovative products of superior quality built on a tradition of integrity. For more information, visit John Deere at its worldwide website at www.JohnDeere.com.